Andrew Dawson ( Australia ) One month course till September 2023.
 Email: Andrew.lyonsdawson@gmail.com
I came to the school in August 2023 and stayed for one month.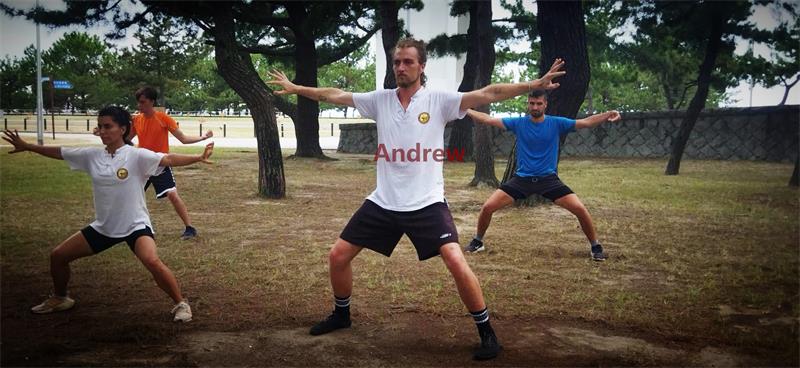 Training Kung fu in the beach forest park nearby.
It is located about an hour by public transport from central Osaka in a relatively quiet and pleasant suburban area. Training happens five days a week, beginning at 7 in the morning and finishing at about 5. The program features tai chi, qi gong, wing chun, Shaolin, sanda and badji styles, as well as strength and physical conditioning.
As someone who has previously had limited experience training casually in martial arts, I was challenged every day. Studying Wing Chun under the renowned Master Gau was a privilege; intense and rewarding by turns. Redefining my own limits, with the help of coach Jamal, and receiving patient guidance in technique in such a focused environment is a terrific opportunity.
Meals are provided 6 days a week and all necessary amenities (supermarket, train station, onsen!) are all within walking distance. Training occurs at the school, at the beach, and in local parks and gymnasiums.
During my time at the school, I trained with between half a dozen and a dozen other students, from around the world. Most of these were accomplished martial artists in their own rights, happy to share their knowledge, and easy to get along with. This created a supportive environment to concentrate on studies.
Keep in mind, the weather in Osaka at this time of year is hot, however the accommodation is a comfortable space to recuperate after a days training.
The month went too quickly! When I return, I hope for it to be longer (most my fellow students were training for 6+ months). While my form and technique have greatly improved during this time, I understand that it is only the beginning.
Highlights included gaining experience in a semi-formal sparring situation and making new friends.
I would recommend to anyone looking to challenge themselves with a deep dive into martial arts. The depth of knowledge held by the masters and the comprehensive program are not, as far as I am aware, to be found anywhere else.