Please read the following information carefully:

What do you need to get ready to join the Osaka Kung Fu School in Japan?

You can maintain a normal diet before you come, and you may simply do some jogging and daily stretching, which can assist your training here and can make training easier for yourself.

What is the procedure to enter the Osaka Kung Fu School in Japan?

Please send the application form and add us on WhatsAPP: +81 80-5866-1666 to reserve your place in advance.

What kind of visa do I need?

Japan is in the visa-free zone with most countries in the world and no visa is required for a 90-day or 180-day stay in Japan.

How are we to be reached?
Book your flight: It's best to arrive at Kansai International Airport by 14:00 p.m. (and avoid coming on Friday and Saturday if possible)

The airport is Kansai International Airport.

You can take a taxi to us directly (45 USD around / 25 minutes) because we are located near to Kansai International Airport in Japan, which is easier and more convenient. We will provide students with a paper to show taxi drivers later. Also, be sure to bring some cash in Japanese yen. In Japan, people prefer cash to credit cards.
Sanda training equipment:

If you attend Chinese kickboxing training, bring your own braces and boxing gloves, which will be more hygienic during the epidemic.
What kind of clothes should I bring?

You can bring some training clothes such as tracksuits, T-shirts, shorts, vests and sweatshirts, as well as everyday necessities.

If you come during the winter months of December to February, you will need to bring some warm clothes. Also, you can get training clothes/shoes here at the big supermarkets where we are located.

Travel/Medical Insurance

Purchase full medical/travel insurance, including accident or illness/injury coverage, for the duration of your stay with us.

School meals:
We are trying to offer meals every day with Meals Deliver Company of Japan, but it is impossible for them to deliver meals every day because of different systems and workdays labour law of Japan, but finally, we have managed to let them deliver meals from Sunday to Friday, thus only meals on Saturday will not be available, but it is easy for students to buy food in the supermarket nearby. For the meals on breakfast, we offer eggs (boiled eggs or fried eggs), milk, bread (Toaster available), sometimes Japanese soup (The Miso Soup) available.
PS. Japanese meals are normal with less oil and high quality standards.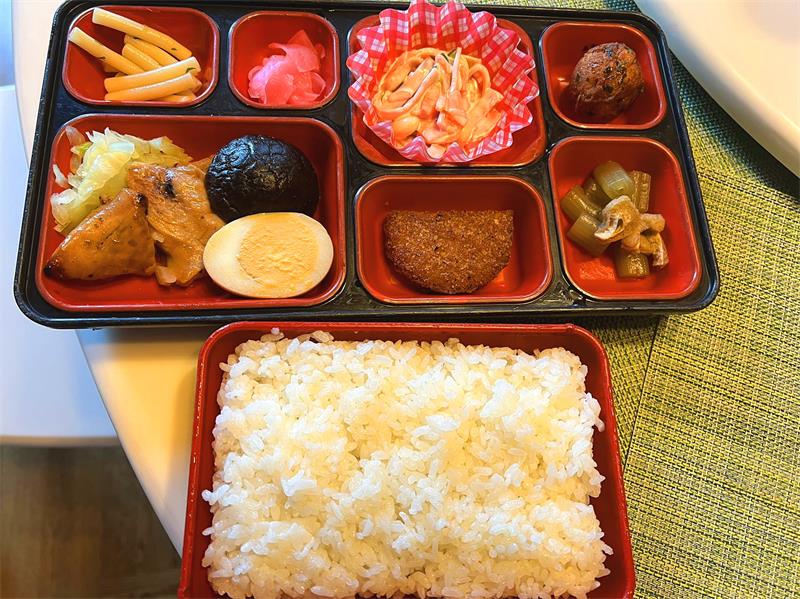 School meals.