Momo &  Sylvain ( Two people from France)
Six Month Kung Fu training course from Jan 2023 to July 2023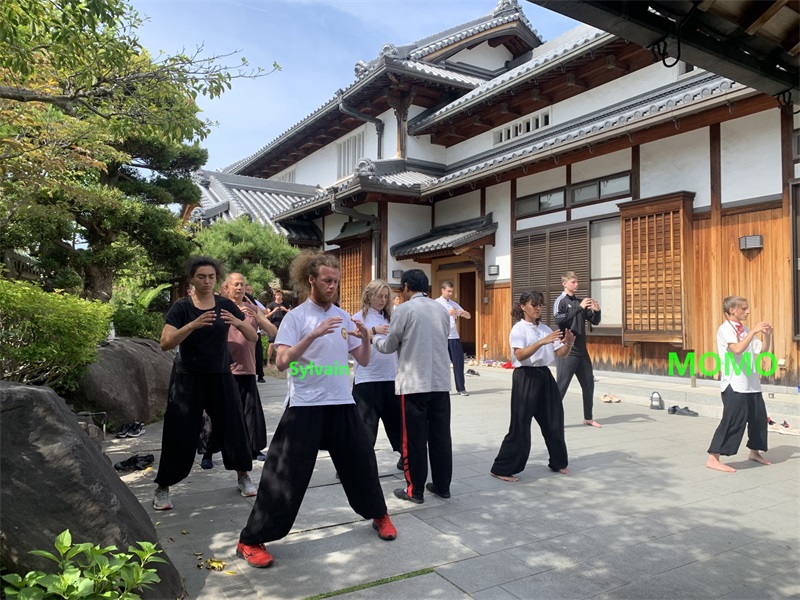 I like to say my opinion about the people with whom I have experienced things before leaving. Allow me to give you my opinion about you as sincerely as possible.

I would have liked more advice on my kicks and combos in sparring, the way to improve myself like when you explained to me the exercise to make my kicks faster, I will use it a lot with Momo, thank you for that!

you are the wisest, most incredible man I have met in my life, you always have a smile and do not let yourself be distracted by the little problems of everyday life, you explained to me that these things were not It doesn't matter and the important thing was the training, I understood them well, thank you very much.

you have a content smile, a real smile of peace and happiness, when we look at your eyes we see a powerful and strong being, who has clear and quick ideas!

I like strong people, so I am under your spell, you have a lot of strong points and that is admirable.you have shown us your abilities several times and this will push us in our lives to never stop, always do better, thank you very much for this example.

you shared with us a very small part of your life at the sushi restaurant, thank you very much for that, it allows me to understand you more.You will be a source of inspiration all my life, I will do my best to come back to China and relive your training.

I didn't think I had the dream of meeting someone, now I have the dream of meeting you again.

I will do my best to impress you at our next meeting. thank you knowing you will help me enormously in my life.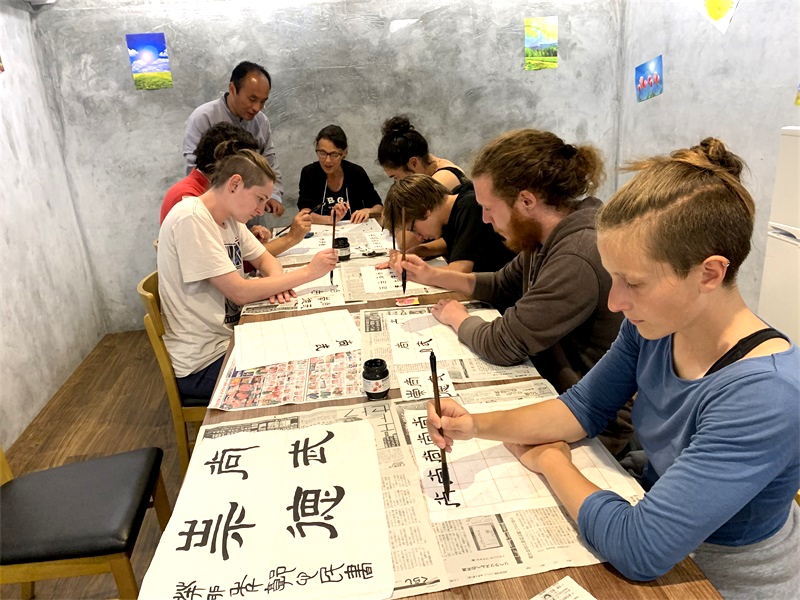 Chinese Calligraphy class - the right two people are Momo couple
Original ones in French:
J'aime dire mon avis sur les personne avec qui j'ai vecu des choses avant de partir.permetter moi de vous donnez mon avis sur vous le plus sincerement possible.
j'aurais aimer plus de conseil sur mes coup et combos en sparring,la maniere de m'ameliorer comme quand vous m'avez expliquer l'exsercice pour rendre mes coup de pied plus repide,je l'utiliserai beaucoup avec Momo,merci pour cela!
vous ete i'homme le plus sage,le plus incroyable que j'ai rencontrer de ma vie,vous avez toujours le sourire et ne vous laisser pas distraire par les petit probleme du quotidien,vous m'avez expliquer que ces choses n'etai pas grave et que i'important etai l'entrainement,je les bien compris,merci beaucoup.
vous avez un sourire constent,un reelle sourire de paix et de bonnheure,quand on regarde vos yeux on voie un etre puissant et fort ,qui a les idee claire et reapide! j'aime les gens fort,je suis donc sous votre charme,vous avez beaucoup de point fort et cela est admirable.
vous nous avez montrer plusieur fois vos capacite et cela nouspoussera dans notre vie a ne jamais areter, toujours faire mieux,merci beaucoup pour cette exemple.
vous nous avez partager une tres petite partie de votre vie au restaurant sushi,merci beaucoup pour cela ca me permet de plus vous comprendre.
Vous serez une source d'inspiration toute ma vie, je ferais un maximum pour revenir en chine revivre vos entrainement.je ne pensais pas avoir le reve de rencontrer quelqu'un,maintenant j'ai le reve de vous rencontrer a nouveaux.
je vais faire mon maximum pour vous epate a notre prochaine rencontre. merci vous connaitre va enormement m'aider dans mavie.