Alex Finney (from UK ) Wrote the experience in March 2023
Email: finney.alex@gmail.com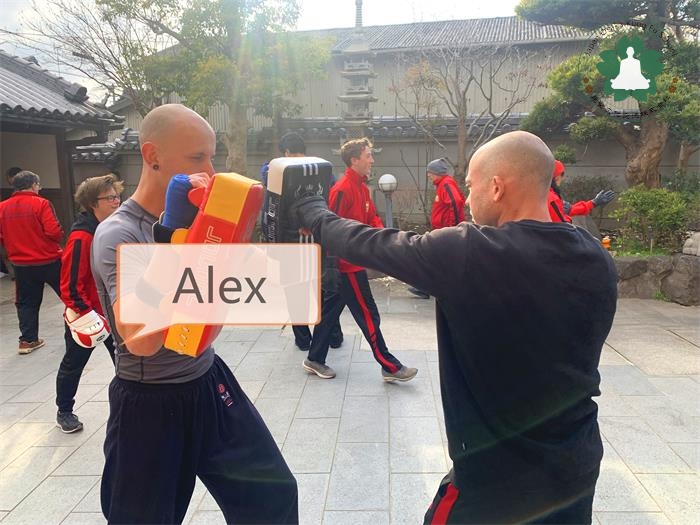 I visited the Japan Osaka Kung Fu healing School for only a month, a relatively short time compared to how long some students choose to stay, but even so it was a fantastic experience.
The school covers a wide range of disciplines and activities, from multiple styles of Kung Fu and chi kung, to power and stamina exercise classes, along with Chinese language lessons and explorations of Japanese culture.
Each day of training is varied and rarely repetitive or tedious, while still maintaining steady learning and progress through whatever topics people choose to focus on. 
Classes are tought by friendly Kung Fu Masters or coaches who are clearly extremely knowledgeable and skilled in their chosen arts, and eager to pass on those skills to students. Feedback is given frequently and in great detail, helping students to continuously improve and develop each and every day.
I found life at the school to be a super pleasant experience. There are plenty of amenities nearby - supermarkets, barbers, laundromats etc. - while the school itself still feels isolated and quite most of the time.
The rooms are reasonably spacious, even when shared with other people. The mattresses provided are a little thin for my preferences and I found it a little difficult to sleep the first couple of nights, however the local supermarket sells a thin mattress for around 5000 yen and this made the sleeping arrangement much more comfortable.
Food is provided 6 days a week for lunch and dinner and breakfast is generally provided on training days as well. The meals change daily and are overall pretty tasty and decent quantities. There are many good restaurants nearby if you need a little extra too.
Overall I would definitely recommend a visit to the Japan Osaka Kung Fu School for chikung, Meditation and Martial arts retreat!